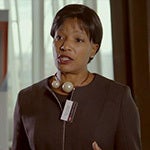 2019 Winner Profile
Places for People
Norma Dove-Edwin
RANK: #27
COMPANY WHERE WON: Places for People
AWARD DETAILS:
In a sector with little claim to developing or implementing leading-edge technology, Chief Data and Information Officer Norma Dove-Edwin's ambition is to leverage technology for property management and development company Places for People to drive innovation.
Strategic partnering, digital transformation and a single data platform are her key initiatives. The strategic partner programme seeks to strengthen the relationship between the IT function and the rest of the business. By collaborating on business strategies to deliver innovative technology, Places for People's businesses can meet their objectives.
Dove-Edwin's digital transformation goal is for her team to identify and deploy innovative technologies (cloud, IoT, VR, AR, AI) and use analytical insights to drive the ability to deliver a superior digital and customer experience, substantially enhancing operational agility for tomorrow's world. Proofs of concept are already under way for IoT wearables and sensors in homes. Meanwhile the data platform will be the sole source of data for the group, feeding analytics and AI.
She has also set up an innovation lab to collaborate with the startup community on discovering new ways of working and fostering an innovative culture. Workforce productivity, change and innovation will be driven by the creation of a modern digital workplace that will see 50% of the onsite estate moved to the cloud in a first phase, with the rest following.
[Read next - Places for People CDO Norma Dove-Edwin's Information Brief - Putting data and insight at heart of transformation agenda]
LOCATION: London, United Kingdom
INDUSTRY: Construction and Engineering Industry