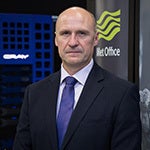 2019 Winner Profile
Met Office
Charles Ewen
RANK: #22
COMPANY WHERE WON: Met Office
AWARD DETAILS:
At the heart of business transformation, the Met Office's Technology Director Charles Ewen has been leading a broad efficiency programme to cut operating costs enough to give the national weather service the headroom to build tomorrow's people, process and technology infrastructure.
As part of a multi-year transformation portfolio, last year CIO Ewen and his team delivered a number of key underpinning capability projects. They include a world-first decoupler, a service hub and three SaaS implementations of IT service management, CRM and productivity. All new products were delivered in the public cloud, while each individual project has met business case parameters and contributed to a wider efficiency focus that has removed costs equivalent to around 10% of revenue. Further improvements to productivity and quality have come from significantly maturing development and deployment processes, team structures and ways of working, and the testing and deployment model.
Key innovations in 2018 include progress towards thematic management in a federated model. This ensures that an organisation that relies heavily on high-scale and fast-moving teams does not make choices that ultimately result in a technology rats' nest.
Ewen has overseen the creation of communities of practice to implement and extend the scalability model of guilds and tribes. It has resulted in teams engaging in maintaining and extending development patterns (and anti-patterns) and common solutions architectures in a community and federated model. This has focused limited resources on challenges, issues and opportunities as required rather than developing and maintaining expensive artefacts and constraining rules where they are not needed. He has also found new ways to exploit serverless approaches (ephemeral, infrastructure as code, event-driven approaches) to cut significant lifecycle, test, deployment and operational costs in new development.
[Read next - Met Office CIO Charles Ewen on how supercomputers forecast the weather]
LOCATION: Exeter, United Kingdom
INDUSTRY: Nonprofit