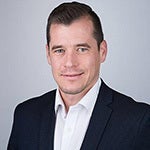 2019 Winner Profile
Strictly Education
Alex Farr
COMPANY WHERE WON: Strictly Education
AWARD DETAILS:
Currently CIO at education services provider Strictly Education, Alex Farr was Head of IT at Monarch Aircraft Engineering during the second half of 2018, having spent the previous five years as IT Director at Transport Systems Catapult.
Appointed in August 2018 to drive Monarch's transition to more agile systems, Farr focused on reducing the risk and cost of replacing legacy infrastructure and systems. By moving to the cloud and more off-the-shelf applications, his team was hoping to lay a foundation for exploring emerging tech such as drone inspections, predictive aircraft maintenance and 3D manufacturing.
Monarch however was operating in tough conditions, and Farr was praised by the 2019 CIO 100 panel for being particularly proactive in helping source new employment for his team and those in other roles when it was announced the company would be going into administration in early 2019, leading to significant job losses.
Before then there was a collaboration on a blockchain-based project to create a detailed history of aircraft parts, engineers and their competency, work undertaken and tools used on aircraft. The digital ledger would give aircraft lessors, future buyers and maintenance providers a full audit trail of any work undertaken, plus validate the parts and components in use, improving aircraft safety and reliability.
LOCATION: Milton Keynes, United Kingdom
INDUSTRY: Professional Services