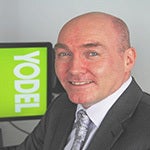 2019 Winner Profile
Yodel
Adam Gerrard
RANK: #14
COMPANY WHERE WON: Yodel
AWARD DETAILS:
Building a company-wide digital culture is high on many CIOs' list of objectives. A telling example of the success achieved by Adam Gerrard, Chief Digital Officer at Yodel Delivery Network, is that, using a continuous integration platform deployed last year, the parcel carrier's CEO was shown how – and was then allowed – to promote a piece of newly written code through the pipe right through to live. The platform allows the department to release code twice as fast – and in a fraction of the time – as a year before.
Gerrard is driving Yodel fast down the digital transformation road. By the end of 2018 his team had migrated part of the business to a new digital platform, an in-flight redirection service has significantly improved the consumer experience, and machine learning and cognitive intelligence solutions are under way. Algorithms running on live data feeds from the company's IoT estate are driving transparency across operations, allowing for real-time business intervention to ensure service remains at optimum levels.
A parcel returns service and new versions of the mobile app and website are among his new product development streams. SDN has been implemented on Yodel's private cloud while the broker service can now burst into multiple public cloud providers when needed.
In addition to the live releases, Gerrard and his team undertook a lot of proof of concept work in 2018. Machine learning and cognitive solutions are gaining momentum and will become mainstream in the business this year. Augmented and assisted reality proof of concept trials have developed into full-blown pilots, with an assisted reality solution highly likely to be operating later this year.
An agile culture is currently his big goal. While the tech function has been agile for years, a very operationally oriented multisite business with an emphasis on process harmonisation makes it quite an ask to create an agile business. The technology team under Gerrard has been identifying ways to run concurrent scalable proof of concept workstreams without disrupting the business. The result is that more digital opportunities can be put in front of real-world operators to gauge their feedback and that digital thinkers can be more fully immersed in the wider operation.
LOCATION: Frobisher Way, Hatfield, United Kingdom
INDUSTRY: Transportation Industry