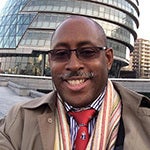 2019 Winner Profile
Bracknell Forest Council
Kevin Gibbs
COMPANY WHERE WON: Bracknell Forest Council
AWARD DETAILS:
In the Royal Borough of Greenwich, the role of CIO was held by the Director of Finance. Wearer of the two hats for a decade was Kevin Gibbs - now Executive Director of Delivery at Bracknell Forest Council - who last year deployed a new data centre, completed a desktop hardware refresh, and built a tech platform targeted at smart and enabled customers.
In 2018, Gibbs and his Greenwich team focused on customer-centric knowledge and information management. They expanded the range of tools used in the council's 138 line of business systems, giving 52% of staff secure access to information sources away from their desk. For example, every refuse collection crew now has real-time information on customers' specialist needs, waste patterns and contamination behaviour by household. Every estate caretaker has the same, plus property-based insight. It all moves front-line service delivery away from the council's customer contact centre and into the field. Reports from the contact centre are now sent in real time to street cleaning crews.
By building the council as a platform with a consistent information architecture that overlays the large legacy collection of systems, Gibbs and his team took data management to the next level. Data is no longer siloed in each department's business system.
Gibbs took it as his mission to inject common and core tools into the business process to act as the glue between process systems and a common user interface. This in turn has allowed corporate-level abstraction of the data, creating organisational information at the transaction level and opportunities to create and manage a corporate reservoir of records for all to use.
For example, the telecare service (home care alerts) has been brought together with customer services; both share the same CRM and single customer record, allowing deep insight into need and behaviour to drive better, customer-centric services. It's an approach that has set the council up to use bots and AI to process data in its data lakes more effectively.
Recognised multiple times in the CIO 100, Gibbs joined Bracknell Forest Council in March 2019.

Kevin Gibbs was a speaker at the 2018 CIO Summit
LOCATION: Bracknell, United Kingdom
INDUSTRY: Government