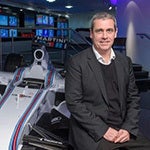 2019 Winner Profile
Williams F1
Graeme Hackland
RANK: #17
COMPANY WHERE WON: Williams F1
AWARD DETAILS:
Not having an innovation budget to experiment with new technologies doesn't seem to have held Graeme Hackland and his team back from creative development. The Williams Grand Prix Engineering CIO has used partner funding for AR and VR fan experience projects, human biometrics analytics (combining IoT and wearable technology) and a factory digital twin that improves chassis turnaround time by providing end-to-end visibility of manufacturing demand and capacity.
Last year also saw the IT department deliver the apex of the company's digital transformation programme under Hackland by going live with the finance, inventory, procurement and sales modules of Microsoft Dynamics AX. Cue cost savings and improved efficiency – for example, inventory inaccuracies can be identified to reduce waste.
He has ensured data analytics resourcing to get the most out of Williams' tech investment. The business benefits include reducing admin tasks for designers, less stock on the shelf, and much better just-in-time) manufacturing. And he secured dedicated development resource for four in-house applications (manufacturing, non-conformance, faults, and production status) to ensure a faster new F1 car build process that results in less waste year on year.
LOCATION: Grove, United Kingdom
INDUSTRY: Manufacturing Industry