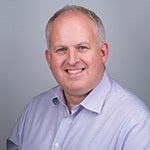 2019 Winner Profile
Girls' Day School Trust
Dan Hall
COMPANY WHERE WON: Girls' Day School Trust
AWARD DETAILS:
By restructuring his function from an IT-led department to an education-led team, Dan Hall, Director of Information Technology Services at the Girls' Day School Trust, has transformed what was a basement function into one that is now key to organisational success.
The harmonisation of key processes and systems across 25 schools has moved the organisation off an infrastructure that was challenging and time-consuming to support. Anything that does not deliver clear, measurable and significant educational benefit for students has been – and will continue to be – standardised, freeing teaching staff to innovate.
The previous almost wholly manual HR and payroll processes, with their high degree of repetition and double data entry, have been fully digitised. And his team has moved eight schools on from paper-based student applications to a digital process, making the transaction smoother, easier and faster. With application handling time falling by 75%, those schools using the system are reporting an increase in student numbers. Hall and his function are now actively researching, testing and investing in VR as a teaching aid.
LOCATION: London, United Kingdom
INDUSTRY: Nonprofit