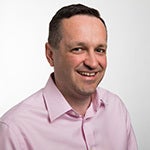 2019 Winner Profile
Haymarket
Richard Harding
COMPANY WHERE WON: Haymarket
AWARD DETAILS:
Richard Harding and his team delivered a clutch of stand-out achievements last year. Not least among the Haymarket Media CTO's successes was the creation of a digital platform to attract and engage the audience of online site WhatCar.
The new site not only enables customers to research cars, but expands on that interest to connect them with the right dealers and the right information so they can buy at the right price. By providing the technical underpinning (via a serverless cloud architecture with high resilience and performance) for a go-to site for car buyers, Harding's function has enabled a new digital revenue stream (through lead generation) outside traditional media advertising streams.
The focus on collecting, sharing, analysing and productising data has also had clear business benefits. Harding's team has built business intelligence capabilities in BigQuery, visualised them to the business through reports and dashboards, and created a data matching and analysis platform that predicts which leads the sales team should progress. It has delivered a significant increase in lead conversion.
In 2018 he also led the development of a CMS that publishes content to a gated portal for each brand. The portal collects behavioural information about users' actions and intentions whenever they access content, adding it to the single customer view. At a difficult time for business media organisations, Haymarket Media is on track to deliver growth.
LOCATION: London, United Kingdom
INDUSTRY: Entertainment Industry