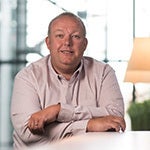 2019 Winner Profile
Ascential
Sean Harley
RANK: #15
COMPANY WHERE WON: Ascential
AWARD DETAILS:
Success in dealing with legacy IT can be just as crucial as riding the innovation wave. With Ascential's data centres approaching end of life last year, Sean Harley, Executive VP and CIO at the media company, drove a reassessment of environment, applications and ways of working that achieved not just modernisation, but also cost efficiency and alignment with the business's path of travel.
With most of Ascential's hosted monolithic applications, back-office services and business systems not yet cloud-ready, Harley's team scaled down the data centres from 24-rack to five-rack and implemented hyperconvergence. The result has been an annual opex cost saving of £1.2m from the reduction in hosting space, power, cooling and licensing.
At the same time he pushed forward a cloud-first approach, coupling a devops governance framework with a cloud management platform whose AI engine makes sizing, security and cost recommendations and has already delivered six-figure savings. Brands can now see exactly what their platform costs, with alerts and triggers against budget. This also helps the business identify revenue vs operational costs.
Four sets of disparate business systems for individual brands were consolidated into a single coherent set to support a global business. Restraining the desire of a new brand's leadership team to just crack on and build something, Harley took a more measured approach, enhancing what was already in place before embarking on a transformation project. It ensured the level of system change was not disruptive for the business teams still establishing their own ways of working.
He changed the communication strategy to allow faster global onboarding of new businesses (now done in a matter of days as opposed to weeks), platform streamlining (a single provider for conferencing, calling, recording , CTI and messaging), significant cost reduction, the maintenance of enterprise services, and a better user experience. The fully cloud-based service was delivered in just six months.
A HR system that was painful to work with, difficult to report on and did not work for our business any more was swept away in favour of three easy-to-use global platforms. Workday for HR, SAP Concur for expenses, and Egencia for the travel portal allow single sign-on, support mobile apps for all, and reduce the hassle of completing laborious forms.
LOCATION: London, United Kingdom
INDUSTRY: Professional Services