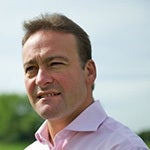 2019 Winner Profile
Global Radio
David Henderson
RANK: #7
COMPANY WHERE WON: Global Radio
AWARD DETAILS:
'Seize the day' may well be the maxim engraved on David Henderson's heart. The CTO of British media company Global knows that reusing the same approach that worked a decade ago just isn't feasible for the modern information professional, and that the implications of new tools, changes in customer demands and the appearance of commercial opportunities all require a rapid embrace.
That approach explains the long list of his new technology deployments in 2018: a new tech platform for a digital audio ad exchange, including listener ID tracking and dashboards; new sales process and tools for commercial teams; new radio studios with integrated TV-quality video cameras; and an app that surfaces over 1,500 podcasts and which has grown the audience by 30%.
Henderson and his Technology & Operations function even introduced an app that assesses the impact of events on an audience – everything from weather conditions to song choice, from advertising to competitions. The sophistication of the analysis includes the ability to tell when a song or advert starts to 'burn' (to irritate listeners). RFID wristbands are now issued at music festivals for tracking (queue management) and payment. Radio studios can now run advertising campaigns where signs are updated in real time based on the theme of the radio conversation. There is even a machine learning solution in place that can forecast demand (and supply issues), and will provide product recommendations in future.
The current focus is on finding ways to make sense of the organisation's data and expose it in more useful ways, or automate processes where action needs to be taken (such as finding a way to fill advertising gaps algorithmically, with schedulers allowed to review or manually override the choices if they wish).
With growth and strategic acquisitions doubling the size of the business in 2018, it seems clear that future growth will come from IT's ability to furnish tech platforms with rich data - indeed, through acquisitions Global is a now a significant player in the out of home advertising market. In short, under Henderson, Global has become a tech business and also has a new sector to self-disrupt with its programmatic advertising exchange.
LOCATION: London, United Kingdom
INDUSTRY: Entertainment Industry