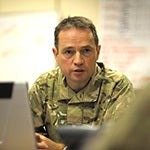 2019 Winner Profile
University of Exeter
Alan Hill
RANK: #28
COMPANY WHERE WON: University of Exeter
AWARD DETAILS:
Alan Hill, Chief Information and Digital Officer at the University of Exeter, may be a former brigadier, but he has no need to park his IT tanks on the university's decision-making lawns. By significantly deepening the level of digital understanding at Council and executive board level, he has persuaded the top brass to buy into a digital and IT modernisation programme that directly enables business change.
As a consequence, Hill and his unit have been able to embed digital and IT services with students and academics, create a new operating model fit for the digital era, achieve unprecedented levels of capital investment with complete board-level backing, and deliver projects that make 'the exceptional happen'.
His briefings to the senior management team have articulated not only the opportunities that digital can offer a university, but also the need for the underpinning IT platforms. The traditional requirement for Council approval for anything over £1m has been scrapped in favour of delegated approval by a small group for all projects (including £1m+), with Council informed about delivery and benefits. Capital investment for digital and IT over a 10-year period has risen by 50%, with most of the additional capital going on digital services over the next four years.
The digital projects will support strategic business needs by creating an immersive digital environment (currently in pilot) and ensuring the digital team work closely with recruitment staff (a student CRM implementation now handles thousands of enquiries previously handled manually). The process for making an offer and accepting an international student has been cut from 21 days to eight, which increases acceptance levels and therefore income.
Among the 60-odd digital initiatives undertaken in 2018 are an innovative in-house attendance monitoring app that allows students to check in automatically to a class. Hill is also working closely with the Director of Research on a system that will manage research from ideation, bid application, winning the grant, delivery and impact. It will give complete visibility of research bids, reducing their overall cost and therefore winning more research grants.
[Read next - University of Exeter CIO Alan Hill on 'creating the digital edge']
CIO UK podcast episode 10 - Alan Hill on designing and delivering the Workplace of the Future
LOCATION: Exeter, United Kingdom
INDUSTRY: Government