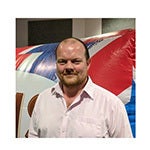 2019 Winner Profile
Hovis
Dominic Howson
RANK: #13
COMPANY WHERE WON: Hovis
AWARD DETAILS:
Dominic Howson has unleashed the bots at Hovis. For the breadmaker's Supply Chain Planning and IS Director, it is just the start of an automation revolution that will maximise profit through process optimisation and task streamlining.
The automation of the sales order capture process has already begun, and HR and the supply chain are next in line. Howson's team have started to integrate AI elements into the equation as well, sparking a deal of interest from the rest of the business.
By mapping all the company's disparate data sources (ERP, non-ERP and external) into a single data universe, he has been able to lift the data veil and close down waste. A reduction in end-to-end waste achieved over the course of 2018 came on the back of the data surfacing work (which involved uploading every piece of transactional data in nearly five years of trading to Google BigQuery), which identified where the problems were.
Pushing all data to BigQuery has also underpinned an internally developed demand forecasting solution with an accuracy in the mid-90s range – about as good as it gets in the bread industry – although Howson reckons that the upper 90s is feasible. The tool combines internal sales and promotional data with external factors such as weather, national holiday timings and customer data to optimise demand anticipation, using a deep neural network to recognise patterns over time and relationships between data sources. The effect is less waste, less inventory and better customer service.
Last year also saw the development of a system at the company's sole flour mill that monitors stock levels at the 70 flour silos that supply Hovis's 19 bread plants. The mill optimises its flour deliveries to them accordingly.
And for an example of agility from the small IT team he leads, consider the following. Last year the company outsourced deliveries on the south coast – around 350 a day. With the solution for the complicated picking process, along with the associated servers and comms devices, inside the third-party's IT perimeter, Howson built a series of web APIs to allow all operations carried out in the new facility appear as if they were within the Hovis network, including two-way communication of orders for pick, pick progress and service reporting. The solution has delivered significant business value.
[Read next: Hovis IS Director Dominic Howson interview - The power of apps in the cloud]
LOCATION: High Wycombe, United Kingdom
INDUSTRY: Retail Industry