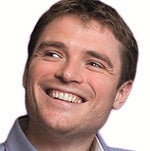 2019 Winner Profile
Dubai Airports
Michael Ibbitson
RANK: #11
COMPANY WHERE WON: Dubai Airports
AWARD DETAILS:
Heading up the IT function for one of the world's biggest airports in terms of passenger numbers offers the CIO a perfect environment for shiny new tech deployments. At Dubai Airports, Michael Ibbitson, the Executive VP – Technology and Infrastructure, has been making the very most of that opportunity.
He has tapped into the airport's previously neglected seven billion data points, sharing real-time relevant data on customer touchpoints for the first time to thousands of staff across the airport's operational community. Data has become transparent and shared, driving greater accountability and more predictive approaches to problem resolution. The airport's network of sensors monitoring passenger movements and queues has also been used to identify patterns and trends.
The most dramatic implementation of all has been a 24/7 co-located control room for all airport service partners. It provides real-time data feeds from across the airport (including the airfield, aircraft stands, baggage, terminals, touchpoints, queueing, security and more), tapping into over 90 applications and feeding it to more than 120 staff via 96 work stations and 123 video wall screens.
Real-time dashboards have improved baggage delivery times. The hour-long immigration queues at peak times are now a thing of the past. Ibbitson and his team have boosted the use of smart gates from 1% to 19% of total passengers, halving queue times in the process and expanding airport capacity by lowering overall transaction times per passenger. Today the passenger queues at immigration desks are monitored through real-time sensor-driven dashboards available on a mobile app.
Another step change has been the transformation of the flight information display screens, which show gate and flight status information. His team has has switched the core back-end system from a legacy on-premise solution to a highly available cloud-based solution.
LOCATION: Dubai, United Arab Emirates
INDUSTRY: Transportation Industry