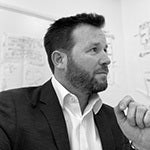 2019 Winner Profile
Reiss
Ian James
COMPANY WHERE WON: Reiss
AWARD DETAILS:
Ian James has kicked off the transformation journey for Reiss. The CIO and his team have been transitioning the fashion retailer's core underlying infrastructure as well as implementing digital and omni-channel.
In 2018 James and his function moved the in-house e-commerce platform to a third-party specialist. It has enhanced the stability of the website, supporting hefty like-for-like growth and increasing development delivery throughput. The retail EPoS was also upgraded. And the consolidation and upgrade of the core networks and on-premise servers via a single managed services provider has boosted resilience and security while cutting costs heavily on existing contracts and enhancing critical application support to 24/7.
Over the past 12 months RFID has been the latest innovation James and his team introduced. The aim is to deliver cost savings and business growth, as well as integrated customer feedback and supply chain monitoring.
LOCATION: London, United Kingdom
INDUSTRY: Retail Industry