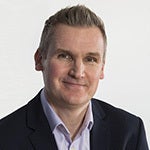 2019 Winner Profile
Horwich Farrelly
Chris Jekiel
COMPANY WHERE WON: Horwich Farrelly
AWARD DETAILS:
During the course of his career, Chris Jekiel has learnt the importance of being a technology leader rather than a technical expert. The Director of Information Technology at law firm Horwich Farrelly knows that the role is about building successful teams and designing a tech strategy that can underpin a commercially astute and successful business.
Last year he developed a new strategy of providing strategic business value through the application of technology that aligned to the firm's vision. It has been a key element in introducing a transformational approach to how technology is adopted and viewed across the business.
Because legal firms need specialist technology that do not lend themselves to modern approaches, Chris has not rolled out process and agile initiatives in the traditional starting place of the development team, but in the core infrastructure and application support teams. This has enabled them to become change agents as well as support staff, and increased project-based workloads by 50%.
A move to a cloud infrastructure has also enabled wider innovation initiatives without impacting the core tech stack or ongoing business programmes. New initiatives last year include hackathons, AI, robotics, deep learning and internal chatbots.
LOCATION: Manchester, United Kingdom
INDUSTRY: Financial Services Industry