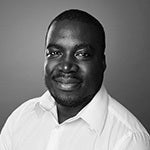 2019 Winner Profile
Simply Business
Hasani Jess
COMPANY WHERE WON: Simply Business
AWARD DETAILS:
Hasani Jess's first year as UK Chief Technology Officer at online insurance broker Simply Business has focused on reorganising the tech function to be future-fit.
He has, though, been enabling innovation to flourish going forward. He sees the commoditisation of machine learning as underpinning the imminent creation of innovative and disruptive solutions. He is accordingly rolling out machine learning training for his development team, equipping them with the tools to naturally include ML techniques into solutions. ML is already used to manage premium pricing and he intends to introduce it more broadly, including into risk profiling, contact management and customer engagement within the knowledge centre.
The CTO expects robotic process automation to have a dramatic impact on back-office efficiency. And with a distributed customer base where the natural touch points revolve around purchasing, he sees IoT as underpinning more regular connection with customers, the collection of more contextual information and customised services.
His 2018 achievements include integrating the UK business with the biggest aggregator in the market, and delivering a call centre solution in the US to bootstrap the sales operation there pending longer-term integrations with partners.
LOCATION: London, United Kingdom
INDUSTRY: Financial Services Industry