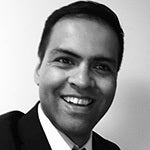 2019 Winner Profile
Virgin Atlantic Airways
Ash Jokhoo
COMPANY WHERE WON: Virgin Atlantic Airways
AWARD DETAILS:
After successfully completing a digitisation and future fitness programme at Centrica - British Gas, Ash Jokhoo moved to the CIO role at Virgin Atlantic at the start of 2019.
His aim, as always, is to pick up the pace on delivering the company's growth strategy. He intends to get his tech team and the rest of the Virgin Atlantic business talking to each other in a way that aligns culture, values and commercial ambitions. He oozes confidence that his function will be a first-class business partner in the years ahead.
Jokhoo is driving a close and focused conversation with all Virgin Atlantic's partners and over 9,000 colleagues to support the new strategic plan. Deep listening is key. The goal is to ensure the tech team can lead through example, and over the next three years shift their expertise up across data, insight and collaboration tools.
With Virgin Atlantic having a new CEO and a new strategy as well as a new CIO, Jokhoo knows his 45-day and 100-day plans will have to deliver a heavy-duty underpinning capability. The real technology strength will come from agreeing mature and interlinked plans with Delta, Air France and KLM, which operate a codeshare partnership (where two or more airlines publish and market the same flight under their own airline designator and flight number).
LOCATION: Crawley, United Kingdom
INDUSTRY: Transportation Industry