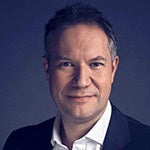 2019 Winner Profile
CWT
Andrew Jordan
RANK: #4
COMPANY WHERE WON: CWT
AWARD DETAILS:
A lawyer's training, innate curiosity and irrepressible entrepreneurialism have led Andrew Jordan, Executive VP and CTO at corporate travel business CWT, to follow two imperatives, with notable success. The first is to question everything – never accept yesterday's business model as necessarily being tomorrow's; the second is to embrace the power of data.
In 2018, his team's introduction of predictive analytics improved forecasting accuracy, providing much better visibility over key travel metrics, and giving customers new ways to control their travel spend. CWT's large historic travel data sets and public data on commodity prices, macro-economic indicators, weather and holidays can now be analysed to identify patterns and correlations, generating robust predictions for a customer's future spend, specifically the number of trips and cost per trip. Predictive analytics gives customers valuable actionable insights – even small changes to travel policies or supplier programmes can lead to big savings.
Jordan and his function also released an AI-powered insight, reporting and visualisation tool that puts internet-style search with drill-down capabilities on top of CWT's data lake, and allows customers to access all the data about their own travel programmes simply and intuitively. Customers can even use the product as a social networking tool that encourages collaboration. The next step will be natural language, and then voice recognition.
Another major initiative last year was an analytics tool that captures every part of an organisation's travel and expense spend, helping travel managers make the right decisions, and saving customers money. The web-based platform combines air, hotel and ground transport transactions with credit card, expense and HR data to reveal the hidden costs of business travel and off-channel spend.
Nor did it stop there. A personalisation algorithm was completed in 2018 that will be implemented in early 2019, bringing a recommendation engine to corporate travel for the first time. A post-booking price tracking service was rolled out worldwide, as was a pre-booking price optimisation service, which uses big data and machine learning to predict airfare trends so customers can secure tickets at the cheapest possible price. And mobile air booking was expanded to 20 key markets, giving travellers the option of booking their flights directly on the CWT app.
[Read next - CWT Chief Product and Technology Officer Andrew Jordan interview]
LOCATION: Minneapolois, United States
INDUSTRY: Transportation Industry