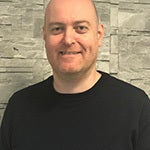 2019 Winner Profile
Auto Trader
Chris Kelly
COMPANY WHERE WON: Auto Trader
AWARD DETAILS:
IT innovation is the fuel that drives Auto Trader Group. Providing the digital octane is Chris Kelly and his team. Kelly is Technology Director at the online car marketplace.
Kelly's function has been continuing the migration of all digital services to the public cloud. He has overseen a strategic investment in architectural changes to applications and is building an automated release pipeline that provisions, configures and deploys infrastructure and applications to an elastic cloud infrastructure.
In 2018, Kelly's team ticked off 150 individual services on the migration list, with the vast majority of those remaining to be migrated in 2019. The resulting powerful hosting platform has significantly reduced deployment times (from 10 minutes to 20 seconds), improved security and optimised resource usage to reduce costs.
Automation has steadily increased the number of application releases a month to over 1,200 while reducing the number of customer-impacting releases to single figures. The ability of product teams to deploy change through to production with minimal friction allows the organisation to adapt quickly to change and competition.
In the past 12 months, two new products have drawn heavily on Kelly's deployment of data technologies and data science. The products allow retailers to advertise vehicles for sale at the right price to minimise the time taken to sell. Vehicle valuations are based on a data lake, powerful analytics tools and machine learning.
This data technology platform will also power a new venture in the UK automotive wholesale market. It will provide fleet companies, manufacturers and retailers with a more efficient and convenient way to dispose of vehicle stock.
INDUSTRY: Entertainment Industry