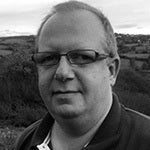 2019 Winner Profile
The Original Factory Shop
Simon Kniveton
COMPANY WHERE WON: The Original Factory Shop
AWARD DETAILS:
At discount department store chain The Original Factory Shop, Head of IT Transformation Simon Kniveton and his team have delivered a smart stores vision of connected colleagues and retail outlets.
Kniveton's function transformed infrastructure by rolling out self-defined networking and WiFi, halving operating costs while massively enhancing reliability and uptime.
Colleague-centric applications and terminals were up and running within three months and were handed to all colleagues to free them from time-consuming back-office tasks and keep them on the shop floor.
Kniveton and his team are working on tablets that can even double up as pop-up tills to provide additional payment points if queues form at the checkouts as well as IP-based security cameras linked to people movement analytics that identify customer hotspots with AI being used to identify and reduce fraud in stores and augmented reality to spot inaccurately priced items on store shelves.
LOCATION: Burnley, United Kingdom
INDUSTRY: Retail Industry