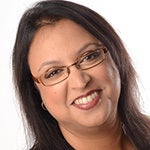 2019 Winner Profile
Swiss Re
Pravina Ladva
COMPANY WHERE WON: Swiss Re
AWARD DETAILS:
At Swiss Re, Chief Technology and Operations Officer Pravina Ladva is a model for how the role of the CIO has changed. She is just as much a business leader as a tech leader, someone who shapes the strategy and success of the insurance and reinsurance provider as well as delivers to its requirements.
Take her role in enabling global growth in the business. She has established a common architecture blueprint that defines modern flexible tech. It allows faster entry to market, and the resulting reduction in business setup time has been clocked at 20%.
Or her implementation of an agile framework to deliver business maturity across the various dimensions of people, tech and process. Pain points are now understood – before being removed to accelerate speed to market. Ladva brings a key focus on culture as well as tools and techniques, which has brought a 10% time gain in the go-live process.
Ladva and her team's full review of core platforms led to the decision to buy new or build key components, and an understanding of which elements need to be federated. The associated contractual savings amount to 15%.
Providing insurance via digital channels is a challenge, as the products can be complex and daunting for customers. Part of Ladva's contribution has been to simplify the interaction through the use of insuretech and an understanding of the customer need. She has brought in third-party digital assistance for the online customer journey, which has helped direct and answer key questions, and provides reach analytics, not to mention a 25% boost in sales conversions. Her team's development of an internal chatbot with AI and machine learning has further enhanced the customer journey.
LOCATION: Zurich, Switzerland
INDUSTRY: Financial Services Industry