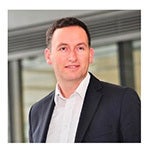 2019 Winner Profile
BAE Systems
John Lawson
COMPANY WHERE WON: BAE Systems
AWARD DETAILS:
John Lawson's formative years as a Manufacturing Engineering graduate laid the foundation for what has been a career spent working in the industrial sector. John moved into IT roles working on some of the world's largest and most ambitious technology driven Business Transformation Programmes. Throughout his career he has maintained a strong link with business functional owners and has used this to drive a focus on business value for the IT initiatives and IT services that he is responsible for.
Previously CIO at GKN Automotive, John joined BAE Systems plc as Global CIO in 2018. His initial activities at BAE have involved focusing on how to maximise the possibilities of technology across a very large federated IT landscape.
At BAE John is leveraging his previous experience across the industrial sector to deliver a business value driven strategy based on key digital components, including: Data Analytics; Industry 4.0 and Artificial Intelligence. Using the associated technologies to deliver value in operational efficiency and competitive advantage, both in helping to optimise the back office and to help create new business possibilities for BAE.
Full exploitation of data is key in a federated environment with many legacy systems and processes. John is leading an approach to maximise common data analytics initiatives across the business and ensure that improvements in data accessibility, data quality and data representation are improved. The resulting impact on back office process efficiency is a major target. The possibilities for leveraging data and data analytics for competitive advantage are strategic goals.
In support of these key digital initiatives John is also striving to maximise the IT investment to ensure the BAE user base is supported with high levels of security, quality, efficiency, and speed. Working closely with existing partners the goal is to improve end user experience and ultimately ensure that the stated objectives of business value via exploitation of information technology are met.
LOCATION: London, United Kingdom
INDUSTRY: Manufacturing Industry