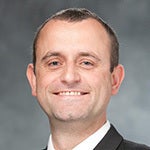 2019 Winner Profile
McDonald's Restaurants
Phil Le-Brun
COMPANY WHERE WON: McDonald's Restaurants
AWARD DETAILS:
Having developed and deployed foundational digital technologies with his team at McDonald's in 2017, Phil Le-Brun, the fast food chain's Vice President of Global Technology Development, spent last year leveraging them to help transform the business.
For example, the home delivery platform rolled out in 2017 is now a $3bn annual business. The e-commerce platform deployed to over 22,000 restaurants is having a similar impact and fundamentally changing the customer engagement model. The platform offers multiple ways to order and collect food – from the self-order kiosks in 17,000 restaurants to mobile ordering and delivery.
The new technology embraces modern design patterns such as microservices to enable smaller changes to be delivered more rapidly to restaurants. The processes aren't new, but implementing them for 37,000 restaurants is a major engineering challenge.
In 2018, Le-Brun and his team completed massive lift and shift of a legacy data warehouse into the cloud. This has enabled a move towards self-service reporting and allowed much more business involvement in data governance. By the end of the year all the major restaurant and digital technologies had been replatformed as a basis for transforming development processes. He is now introducing devops and continuous integration/delivery.
INDUSTRY: Retail Industry