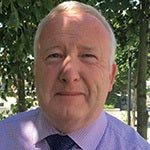 2019 Winner Profile
Scottish Government
Andy McClintock
COMPANY WHERE WON: Scottish Government
AWARD DETAILS:
It's an innovative public sector approach, but one that provides value for money by simplifying the ICT landscape, reducing data duplication and adopting common business processes. Over the past 12 months, McClintock and his team have built and integrated a benefits platform, case management system, payments system, document management and telephony.
Building a robust and futureproof system that can deliver a high volume of payments (the agency will make more payments in a week than the Scottish Government currently makes in a year) is an exceedingly complex task. McClintock has taken an incremental, agile approach following an extensive discovery exercise that came down in favour of multi-channel rather than the now normal digital first position to ensure benefit recipients can contact the agency by phone, online and in person.
He has also decided to create an integrated benefit system (a total of 11 initial benefits have been devolved to the agency), capturing information just once but processing it many times. Futureproofing the technology will be achieved through updatable out-of-the-box solutions.
Another innovation is to go cloud-first, using fully automated pay-as-you-use infrastructure as code, and creating a reusable public library of digital assets. It's an approach that has accelerated environment builds, reduced deployment time and resource overheads, and enabled the automation of usage and billing controls.
LOCATION: Edinburgh, United Kingdom
INDUSTRY: Government