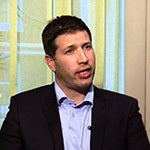 2019 Winner Profile
Rentokil Initial
Dan McCormick
RANK: #2
COMPANY WHERE WON: Rentokil Initial
AWARD DETAILS:
Dan McCormick sees himself as a business partner and influencer of digital business leadership rather than just a technologist. As far as the Rentokil Initial IT Director is concerned, the use of technology is to deliver real business benefits such as revenue growth and competitive advantage.
In 2018 McCormick and his team replatformed heritage technologies to global serverless cloud platforms. More than 350 data centre-hosted apps will be replaced with 34 cloud UX products. Near real-time replication of master data to GCP has given the business a single view of customer data for the first time. McCormick sees the real potential in finding how to monetise data previously stuck in database silos. Data visualisation dashboards have already uncovered the sales opportunity of thousands of field service recommendations going back over five years.
Cloud-connected service points offer customers a complete, fully traceable detection solution that has been deployed worldwide to over 70,000 devices, generating new revenues. His team also worked to analyse the 24/7 real-time data being gathered so the business can learn more about the science of pest control and move towards end-to-end automation.
By adopting agile, he has encouraged experimentation and innovation and his team, and greatly accelerated deployments to 34 countries and five business units. A field service app, integrated with the master record databases, was deployed to 7,000 staff and 34 countries during 2018. Device costs have fallen sharply and field force productivity has risen.
The automation of manual processes with the company's first AI solutions and robotics in 2018 has been widely recognised with awards. A dozen business processes have been robot-automated in the UK finance department and a further six processes are in the pipeline. The savings are substantial, and it has opened the company's eyes to further opportunities to automate at scale using AI from the cloud platform.
INDUSTRY: Professional Services