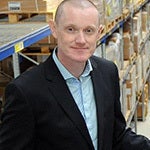 2019 Winner Profile
Water Plus
Robert McNamara
COMPANY WHERE WON: Water Plus
AWARD DETAILS:
When a new joint venture water retail utility opens its doors to 360,000 business customers, sets up numerous internal systems and integrates with new market systems, there are understandably a great many IT challenges. Appointed in May 2018 to add muscle to Water Plus's improvement programme, CIO Robert McNamara has risen to those challenges and taken customer service to a new level.
His initiatives have cut call waiting times by 40% and reduced service backlogs by 80%. The number of complaints have fallen and customer satisfaction levels are starting to rise.
McNamara and his team have enhanced the online customer account so customers can view bills by single site or multiple site, and make payments, raising the direct debit uptake has risen, and there is now support for query management. The account also integrates with the core procurement and billing systems of high-value customers.
More accurate customer billing has come from improvements to the core billing engine. The results have been higher monthly revenue, fewer customer queries and complaints, and greater business profitability.
Through digital-first thinking, McNamara is taking the business to a low cost-to-service model. His team is moving the core ERP solution to a more effective platform with support for robots and AI in operations and customer queries.
LOCATION: Stoke-on-Trent, United Kingdom
INDUSTRY: Utility Software