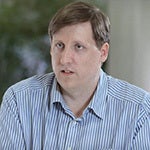 2019 Winner Profile
Focusrite
Trevor Moore
COMPANY WHERE WON: Focusrite
AWARD DETAILS:
Trevor Moore is a change CIO who thrives in digital transformations. As the CIO of FocusRite since late 2017, he has had plenty of scope to turn IT into a core, valued department of the audio equipment manufacturer.
His team's end-to-end digital transformation includes a single cloud-based ERP system, which has simplified business processes and provided the company's first ever quality business reporting. Overall IT costs have been slashed by £2.5m, which has been invested in more innovative products.
The five global brand websites (mediated in eight languages, all using different technology stacks and incurring very high overheads) were redesigned as mobile-first and run on microservices. Downtime has been eliminated, despite Christmas 2018 seeing the most ever product registrations in two days (compared with a five-hour outage the year before). Customers now spend longer on the sites and can get to the pages they want to easier; e-commerce sales have risen strongly as a result.
The rollout of a CRM reduced 35 different customer data sources to four, providing a single source of customer truth and taking the sweat out of communication, understanding and data privacy.
Meanwhile the introduction of agile working has resulted in faster development and response to changes in the market.
INDUSTRY: Manufacturing Industry