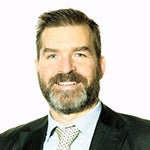 2019 Winner Profile
United Living
Greg Morley
COMPANY WHERE WON: United Living
AWARD DETAILS:
With early career stints in the South African Navy and in organisational psychology under his belt, Greg Morley is ideally equipped to appreciate the value of assembling the right team and working across multiple functions. That's just as well since he's the CIO of United Living Group, whose construction sector sphere of activity is stimulating the convergence of construction disciplines.
That broad convergence – across AEC (architecture, engineering, construction), real estate, infrastructure, planning, smart buildings, smart cities and more – is driving the introduction of blended technologies such as BIM (building information modelling), biometrics, AR and VR, drones, AI, blockchain, robotics, IoT, wearables and ambient technology, all of which are in place, under development or on the cards at United Living.
His team's big win over the past 12 months has been implementing Oracle Aconex, an SaaS project information and process management system. It has helped United Living move away from legacy document management in favour of a more collaborative and transparent way to manage projects. Scalability, process efficiency, field-based apps for construction teams and a BIM-ready common data environment have been the result.
With the organisation's geographically diverse workforce frustrated by the inability of site-based connectivity to cope with super-rapid project mobilisation and demobilisation times, Morley and his team are currently planning a move to SD-WAN to mitigate traditional MPLS limitations. It will deliver value in quicker site setup/takedown, remote diagnostics and troubleshooting, greater resiliency and traffic prioritisation. He also intends to be an early adopter of 5G connectivity for the construction sites.
Morley aims to follow up on his development of a solid BIM-based foundation that integrates with Aconex by extending it into mixed reality via Microsoft HoloLens. The benefit will be seen in areas such as cost planning, digital twin models and showcasing projects to clients.
LOCATION: Kent, United Kingdom
INDUSTRY: Construction and Engineering Industry