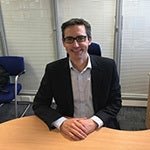 2019 Winner Profile
DVSA
James Munson
COMPANY WHERE WON: DVSA
AWARD DETAILS:
The Driver and Vehicle Standards Agency's extensive customer reach – two million practical driving tests a year, two million theory tests, 42 million MoTs – has been fitted with a diamond-quality AI cutting edge by James Munson and his team. The road safety agency's outgoing Director of Digital Services and Technology's piloting of machine learning has delivered a significantly higher return on its enforcement effort, with one operative declaring: "In all the years I have worked as a Vehicle Examiner, I have only brought one garage to disciplinary; in this trial we have brought four garages in six weeks. This is fantastic!"
Previously, garage assessments used to consist of unannounced visits by Vehicle Examiners, who assigned garages a risk score – a time-consuming and subjective exercise. But last year Munson and his function developed a fully fledged predictive analytics tool that derives risk scores for garages and vehicle testers based on data collected and compared against other testers and garages in the scheme. It has allowed DVSA to target inspection and enforcement action far more effectively at garages and testers exhibiting unusual testing patterns.
DVSA's development of a roadside payment iPhone app also allows enforcement staff to scan a fixed penalty notice, which generates a payment code sent by text message or email to the driver or operator. The roadside fine can then either be paid on the spot or forwarded for payment via GOV.UK. Enforcement staff no longer have to take drivers to cashpoints to withdraw money to pay the fine, or use unreliable chip and PIN machines that often required payment for a single penalty being taken across several payment cards.
In 2018 the digitisation of the driving test was developed as an agile iterative delivery project. A digital driving test app has been built for digital, not a paper form online, providing a one-touch option that can record faults quickly and accurately. Munson led the enhancement and migration of the complete technology platform from an outsourced physical data centre to public cloud, which went live at the end of the year.
Munson's team also moved the commercial vehicle testing service transformation project from its alpha to beta phase in 2018, with the aim of allowing examiners to use an iPhone app to manage and complete testing. Pilots are planned in the first half of 2019, and rollout later in the year.
[Read next - DVSA Director of Services and Technology James Munson driving the journey to agility]
CIO UK podcast episode 11 - James Munson's reflections from the 2018 Gartner Symposium

LOCATION: Bristol, United Kingdom
INDUSTRY: Professional Services