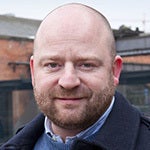 2019 Winner Profile
The University of Sussex
Jason Oliver
COMPANY WHERE WON: The University of Sussex
AWARD DETAILS:
In the currently volatile and uncertain environment of higher education, University of Sussex IT Director Jason Oliver acknowledges the challenge, but believes it also creates an opportunity to be disruptive.
He arrived at the university in September 2018, having completed a three-year transformation agenda at Science Museum Group that turned ICT into a strategic enabler. His aspirations for the university are equally ambitious – he is looking, for example, to create a smart campus where data will drive decision-making (space management, timetabling, and more) and students will have insight across all elements of university life (social to educational).
Digital HR has been one of his first initiatives. He has begun the process of transforming a paper-based transactional department into a people-centred, digital hub where people, process, policy and operations are an integrated whole. Higher productivity with less effort is already apparent.
Research and Big Data is another top priority. He is devising a strategy to give every individual cloud-based access to their own specific computing needs so they can do research or learn to maximum effect. The infrastructure emphasis is accordingly moving from managing physical kit to offering services and training to everyone who wants to use high-performance computing.
With national student survey feedback (a massive contributor to university league table rankings) in decline at Sussex, Oliver and his team have introduced a new virtual learning environment (VLE) and a first online distance learning course (an area of massive growth potential for the university over the coming years). The VLE is major focus as he considers how to use it to drive collaboration and a sense of community so that all students feel engaged and part of the university's life.
Oliver's function is also moving lecture capture into a modern channel with co-created (student and educator) predeveloped lesson content, available on demand all year round, fully searchable, accessible in any language from any location, and with interactive educational materials attached. Alongside this, he is leading on a new student records system to give access to all stages of the student lifecycle (pre-application to alumni), 24-hour assessment feedback and automated marking.
INDUSTRY: Government