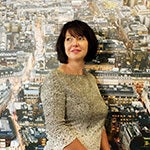 2019 Winner Profile
RPS Group
Kelly Olsen
COMPANY WHERE WON: RPS Group
AWARD DETAILS:
Appointed Group CIO at RPS Group late in 2018, Kelly Olsen is gearing the project management business up for digital initiatives in the teeth of a heavy legacy environment with little automation.
With the company having acquired 80 other businesses in the past 10 years, it has a fragmented and siloed approach to doing business. Olsen is leading an ambitious global ERP rollout to address the problem.
Regarding herself as a business person first and foremost with a specialism in technology, she sees her job as to drive growth and revenue. She intends to combine tech expertise with data and user experience to create shared value by solving problems that matter in a complex, urbanising and resource-scarce world.
Last year, for example, she leveraged the geospatial and commercial skills of a small digital team to support information access and nimble decision-making for a business unit. Assessing the local region's tech and capability mix as inadequate for the task, she turned to another region's geospatial skills and tech to develop a proof of concept in minimal time, fighting the business as usual process to drive it through.
Among her other initiatives in 2018 were the use of machine learning to scan and recognise assets within buildings. And the introduction of VR and AR with gaming technology to visualise new building projects and assess pipeline design to highlight issues early during the design phase.
LOCATION: Abingdon, United Kingdom
INDUSTRY: Professional Services