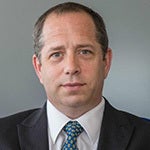 2019 Winner Profile
DVLA
Dave Perry
COMPANY WHERE WON: DVLA
AWARD DETAILS:
Fun is very much on the cards at the Driver and Vehicle Licencing Agency under Dave Perry. One of the CTO's initiatives is to explore the internet of things by attaching sensors to Scalextric cars to help his developers build imaginative and innovative software that uses live vehicle data.
Artificial intelligence, deep learning, robotics, autonomous vehicles, voice computing, machine vision and chatbots are all under consideration. The value of such digital initiatives seems clear.
For example, chatbots are now in use for electronic vehicle licensing, driving record viewing and personalised registration, and being used by around 25,000 customers a month. The benefits include a cut in the web chat handling time, a rise in the number of chats per hour per clerk from 14 to 19, and the chat abandonment rate slashed from 15% to 1%.
Perry has led the building and prototyping of various applications using 3D modelling, VR and simulation to create more engaging and immersive training experiences, enhance site safety and security, and support the design and development of new services. Simulations enable real-world human and machine behaviours, such as autonomous vehicles, to be explored and tested in a safe and repeatable fashion.
Perry and his team are also using mobile phone technology to give customers more choice. The 'add a check code using your mobile phone' service allows drivers to use their smart phone to view and share their driving licence details face to face with a third party such as a car hire company or their employer. As well as giving customers more choice in how they share their details it also speeds up the checking process for third parties.
But it's not all development fun. Responsible for making DVLA a truly modern, agile organisation, Perry has been driving efficiency through technology savings and enhancements that support process improvements.
Since bringing IT back in-house, running costs in 2019/20 are projected to fall by nearly 40% compared with 2017/18. This achievement comes against a backdrop of record-breaking volumes of enquiries and transactions across all services (DVLA completed a billion customer interactions last year, 90% of them online), a 64% year-on-year fall in the number of severe IT incidents, and an 8% year-on-year reduction in overall IT incidents. The savings have financed spending on change – 2018 saw a 63% increase in the amount of change delivered compared with 2017.
To optimise engineering capability, Perry has also set up a DVLA software house on a squad model. The squads are aligned to products and stay together, developing expertise in the services they build and improve. It is fuelling a huge shift in attitude and capability. Trusted to make decisions, squad teams are now delivering as much functionality in two weeks as they previously managed in six months. The green shoots of innovation are already apparent, with people unafraid to try things out. One squad were so keen to learn and progress that they replatformed a legacy application onto DVLA's new target technology in their own time.
LOCATION: Swansea, United Kingdom
INDUSTRY: Government