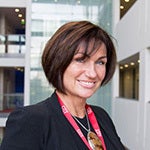 2019 Winner Profile
City University
Claire Priestley
RANK: #26
COMPANY WHERE WON: City University
AWARD DETAILS:
The needs of servicing a technical estate for over 30,000 students, alumni and staff, covering IT, AV, data and many specialist technologies, explain the broadness of the spectrum and the user-centred nature of the 30 change projects introduced last year by Claire Priestley, IT Director at City, University of London.
Among her team's tech output in 2018 was a personal tutoring tool, tailored analytics, and a student attendance and monitoring solution that makes use of proximity and beacon technologies. The university saves an average of £9,000 for each student it 'saves' in this way. Three research grant, ethics and data systems were rolled out in 2018, rationalising processes and releasing staff to focus on more meaningful research support.
A new student hub, the deployment of online induction timetables and the upgrade of more than 2,500 PCs and 33 teaching rooms helped keep City in the top quartile for performance in the key student surveys. Priestley and her team released a bespoke wayfinding app that helps students navigate from wherever they are into the individual lecture room or event space they need, saving time and stress on a widely distributed campus and driving up student satisfaction. Chatbots have been deployed to provide additional contact channels for students.
She expanded network capacity and internet connectivity in 2018, to give speedy, seamless connectivity in every part of the estate (more than 23 locations). A software defined network has been implemented across the entire technical estate, simplifying and centralising network management control so effectively that the entire network can be run with just three people. The IT department's virtualisation of the telephone system allows a team of just two people to run the entire telephony estate, including call centre software, network, hardware, mobile and tablet devices.
[Read next - City University CIO Claire Priestley on using data to create personalised student experiences]
CIO UK podcast episode 12 - Claire Priestley's reflections from the 2018 Gartner Symposium
INDUSTRY: Government