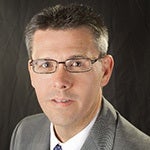 2019 Winner Profile
Tata Steel
Nick Reeks
COMPANY WHERE WON: Tata Steel
AWARD DETAILS:
Technology may be changing faster than ever, but the challenge for IT to deliver – and deliver professionally – is constant. For Nicholas Reeks, Tata Steel's Director IT, Vendor Management, the enjoyment never dims.
In 2018, Reeks and his team took the Azure platform from proof of concept to a service capability. Improvements in order book handling have delivered multiples of the investment, and quality and yield manufacturing gains are about to be captured. Across other functions, there has been a sustained drive for e-commerce functionality, ranging from new online sales options, EDI connections and increased customer service functionality.
To sustain IT's place at the senior table to support the digital agenda, he has overseen a sharp improvement in service levels by focusing on backlogs, lead times, user issues and project/enhancement delivery time. Over the course of the year, backlogs have been eliminated in all key areas, complaints are at the lowest level for years, and high-priority incidents have been halved.
He has also lowered the annual run cost rate by 7% by continuously improving outsourcing contracts and reducing direct tail spend. A sustained transformation programme is reducing/replacing older applications, and limiting application support costs, licences and variable storage costs.
A new digital learning hub has supported user education in Office 365, and drones have been used for site surveys. A pilot IoT project has opened the door to increased use of sensors for predictive maintenance, track and trace, and environmental monitoring. In the second half of the year there was a sharp rise in the use of automation for IT operations, with 64 use cases added to the cognitive platform.
[Read next - What digital transformation means for Tata Steel Europe IT Director Nick Reeks]
INDUSTRY: Manufacturing Industry