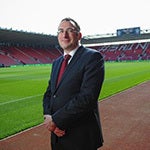 2019 Winner Profile
Southampton FC
Matthew Reynolds
COMPANY WHERE WON: Southampton FC
AWARD DETAILS:
IT Director Matthew Reynolds is demonstrating that, when it comes to technology and innovation, Southampton FC is playing in the top tier.
His introduction of football data and analytics has allowed decisions to be driven by data rather than opinions. Data collection at the club has been automated across the whole ecosystem. Previously, player performance information had been concerned solely with physical activity, but now the wider environment is considered. Game and player analysis is new, as too are developments in medical and scouting information.
Last year was also a period of key operational and commercial decision-making in IT. Reynolds and his team integrated the club's ERP solution into the various commercial systems, giving a single view of financial data across the business. The automation of player performance pay has been integrated with data from external service providers, allowing senior management to make faster and more informed decisions.
And while machine Learning and AI on football data is still at the experimental stage, fan engagement through connectivity has begun. By using beacons, WiFi and smart technology, Reynolds is looking to enhance the customer experience through contextual and location-relevant information.
[Read next - Southampton FC IT Director Matthew Reynolds kicking tech into football]
LOCATION: Southampton, United Kingdom
INDUSTRY: Entertainment Industry