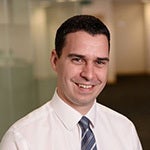 2019 Winner Profile
Radius Payment Solutions
Dave Roberts
RANK: #3
COMPANY WHERE WON: Radius Payment Solutions
AWARD DETAILS:
In a technology-based business seeking to double its value over the next few years, Dave Roberts has a particularly crucial role to play. As the CIO of Radius Payment Solutions, it's up to Roberts and his team to deliver that ambitious growth target by expanding the organisation's product portfolio.
If last year is any guide, it seems unlikely to be a problem – a new vehicle insurance business has been set up, and telematics and fuel cards introduced to the US. Roberts' key initiatives have been developing an IoT capability for the core telematics product, completing the first version of an integrated dashcam that captures near-real time video footage of driver incidents, and creating a mobile phone-based telematics platform that works without a 'black box' device in the vehicle.
The technology board member Roberts and his department are using to enhance the customer experience has seen the number of unique monthly users of the customer web portal rise from 60,000 to over 100,000 during the course of 2018. He has overhauled the central processing and billing system, moving from a 20-year-old Oracle and Sage system to a cloud-based ERP platform.
A messaging platform has helped simplify customer onboarding. And the aim is to incorporate AI to improve the customer experience and reduce the overall cost to serve. His current focus is a proof of concept for robotic process automation to cut admin overheads and expand the time sales agents can spend with customers and prospects.
LOCATION: California, United States
INDUSTRY: Financial Services Industry