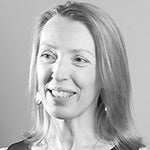 2019 Winner Profile
Cobham
Katrina Roche
RANK: #20
COMPANY WHERE WON: Cobham
AWARD DETAILS:
Under Katrina Roche, Cobham has been on a transformation journey. The Executive VP for IT has raised the value of IT by cutting its costs, showing flexibility on responsibility boundaries, and gaining knowledge while investing creatively.
Allowed to operate independently from the main business units (Cobham's first function to do so), IT has been turned by Roche into a global service-focused organisation where each service family is run as a product portfolio, with services introduced, changed and removed according to business need.
She has hooked together the defence, aerospace and space technology and service provider's many unconnected sites so they can now to interact and share capabilities and information, and rolled out a chat service across regional sites for improved collaboration.
The changes have been made possible by the continuous adaptation and automation of existing services, which cut IT costs by 16% in 2017 and a further 10% in 2018. This achievement came despite the transfer of significant costs to the IT budget as 'shadow' IT activities were absorbed into the service families.
Roche and her team have used pilots to introduce such differentiating services as flight operation tools, mobile check-in, web apps, e-services, after-sales support, barcode scanning for works orders, mobile supply chain, touchscreen apps and an e-flightbag. Multiple other projects are in operation around the business to determine the optimum use of data analytics and business intelligence tools, with whole company analytics and business unit-focused services also in prospect.
Product lifecycle management has been built and deployed to engineering sites, as has a pilot virtual simulation environment. Requirements, quality and test management tools have been designed and tested and will be implemented in 2019. Roche's software rationalisation across the engineering services and the business has cut the quantity of installed software by 40%.
INDUSTRY: Manufacturing Industry