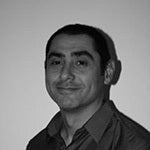 2019 Winner Profile
Square Enix
Haitham Rowley
COMPANY WHERE WON: Square Enix
AWARD DETAILS:
Haitham Rowley's targeting of a devops service model and mentality within IT and game/application teams at video game developer Square Enix West has been fundamentally a business initiative by the Group IT Director.
With computer games becoming always-on activities, he has transitioned IT across the business to support games as a service. Value has already emerged in the way the development teams now work with IT operation teams, with enhanced communication and collaboration. As security and platform infrastructure are key to running the games, his embedding of ops engineers into the game development teams has improved fix times, service architecture, security, communication and service delivery.
The use of off-the-shelf software development kits to build game features has been replaced by an internal product. The back-end platform now collects game metrics, supports player profiles, authentication, infocasting and anti-cheat, and allows game teams to select AI, machine learning and around another 30 features.
INDUSTRY: Telecommunications Industry