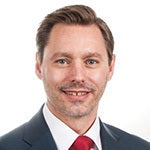 2019 Winner Profile
Orbis - East Sussex and Surrey County Councils
Matthew Scott
COMPANY WHERE WON: Orbis - East Sussex and Surrey County Councils
AWARD DETAILS:
Leading an IT department that consists of resources drawn from three organisations (Brighton & Hove, East Sussex and Surrey Councils) gives Matthew Scott the unusual ability to harness a wide spectrum of thinking power and innovation potential. The challenge, though, is equally varied, with the Orbis CIO looking to meet the organisations' shared and individual needs with agility, focus and pace.
He has shaped, for example, the scope and content of Surrey Council's transformation programme, creating digital and agile workforce capabilities to maximise return on investment in online access to services and deliver an additional £4m in cost reduction over a two-year period.
He has underpinned partnership working between the councils and the NHS by setting up calendar sharing. The development of a virtual integrated care bureau operated by NHS and local authority teams ensures that patients have the right care and support frameworks in place as they move from hospital to other care locations.
By moving data centres, refreshing devices, upgrading connectivity and introducing cloud-based productivity tools, Scott's team has enabled more collaborative working and greater productivity. For example, given six months to move over 100 Brighton & Hove Council public-facing services to a datacentre owned by Surrey Council, the CIO function designed, planned and executed the switch ahead of schedule and with no noticeable impact to service users. The move came hot on the heels of a similar move to relocate East Sussex Council services in the same datacentre.
Significant service improvements during the year include revitalising the IT service desk performance at Surrey Council, where caller wait times had reached 45 minutes, by integrating the operational management and teams on the model Orbis has applied at the other councils. It cut caller wait times to under 30 seconds, greatly improved response to faults and service requests, and turned the service into a workforce enabler.
Scott has also taken great strides in robotic process automation. His team is now scaling out prototypes focused on simplistic developments that tackled long-standing business pain-points. They include file preparation and upload (now done in 15 minutes rather than one day), updating hundreds of user accounts in a system of record in around 2.5 hours versus three days of manual effort, creating records and client accounts, and scraping data from a national cycling pothole website to raise highways defect requests.
Chatbots and AI capabilities are being created to support the Surrey transformation programme. The intention is to enable residents to raise queries, get information and request services using natural language on the council's website and digital channels as well as through messaging apps. The business benefits include minimising avoidable calls to the contact centre and resolving enquiries more quickly.
LOCATION: East Sussex, United Kingdom
INDUSTRY: Government