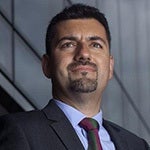 2019 Winner Profile
DEFRA
John Seglias
RANK: #29
COMPANY WHERE WON: DEFRA
AWARD DETAILS:
Defra's move from a small government department to the one at the very heart of government policy and delivery as the UK exits the EU has raised the stakes for John Seglias, Defra's Chief Digital and Information Officer.
To ensure Defra can meet the challenge, he has spent the past year renewing the IT strategy for the next few years. His unwavering goals have been to ensure Defra's IT-readiness for Brexit, to transform public services through digital and data innovation, and to improve collaboration and smarter ways of working.
Given Defra's responsibility for critical elements of the UK economy, including food supply, not to mention its public health, animal health and environment remit, his top priority over the past 12 months has naturally been Brexit. With ownership of the policy and delivery of these areas being repatriated from the EU, Seglias has implemented a new Brexit-dedicated digital delivery centre, strengthened four other existing digital centres, and stood up a new service centre to manage the cloud environments used by the Brexit IT systems. Despite the need to meet very tight deadlines, he also pushed forward with new common cloud platforms including for CRM, identity, integration and payment.
While Brexit has been big, not to say massive, in 2018 Seglias and his team also replaced Defra's ICT outsourcing contracts with two big suppliers with a multi-supplier model, resulting in more flexible contracts, more modern technology and services for users, and substantial savings. And the function has delivered digital solutions to support the new Ivory legislation, a new Earth Observation platform (to better monitor the changing environment and farming), permit services and a field inspections solution
He has a tech innovation team proactively evaluating new technologies against business needs and opportunities. This service is currently tracking and analysing over 1,800 technologies and is maintaining an emerging technology radar that shows the technologies most relevant to Defra.
In 2018 Defra successfully completed a blockchain proof of concept, demonstrating how it can be used to track red meat through the supply chain. Seglias and his team also implemented robotic process automation in two business units, resulting in a sevenfold productivity improvement. And they have got the use of AI and machine learning to transform business processes under way, with three successful proofs of concept.
LOCATION: London, United Kingdom
INDUSTRY: Government