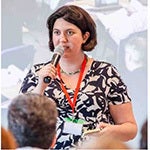 2019 Winner Profile
British Red Cross
Rosie Slater-Carr
RANK: #18
COMPANY WHERE WON: British Red Cross
AWARD DETAILS:
At the British Red Cross, CIO Rose Slater-Carr and her team has been supplying staff, volunteers and the public with new tools of measurable value – a redesigned website, online bookings of wheelchair loans, and a collaborative tools roll-out are the highlights – and all the metrics are highly positive.
Their launch of a new website helped capture valuable instant feedback on a national brand launch. By reducing the number of webpages from 4,000 to 400, Slater-Carr's function has significantly reduced the time it takes people to complete the things they come to the website to do.
The department digitised the Borrow a Wheelchair service, allowing wheelchair loans to be ordered and booked online so that people are no longer restricted to ringing up at specified times. The system also tracks the issue and return of the wheelchairs lent out, and allows the collection of more data about the service, which has in turned driven improvements to the business model.
The rollout of Microsoft 365 and Zoom collaboration tools has had a significant impact on ways of working. In one month alone, some 1,198 meetings with 5,819 participants were held as Zoom videoconferences; feedback has been incredible in terms of reduced travel spending and increased engagement. The tools have helped drive improvement in the IT customer satisfaction score to 78% – up eight percentage points on the previous year and nearly double the 44% that was being achieved when Slater-Carr arrived at the organisation three years ago.
The future looks equally bright. The intention is to digitise many of the paper-heavy processes, build a culture of innovation, deliver a new CRM, broaden out the collaborative tools to a digital workplace and explore the opportunities for low-level automation and chatbots.
[Read next - Red Cross CIO Rosie Slater-Carr's reflections from the 2018 Gartner Symposium]
LOCATION: British Red Cross, UK Office, 44 Moorfields, London, United Kingdom
INDUSTRY: Nonprofit