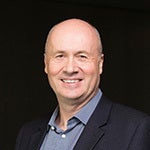 2019 Winner Profile
Shell
Craig Walker
RANK: #10
COMPANY WHERE WON: Shell
AWARD DETAILS:
With customers wanting to buy from companies or brands aligned to their aspirations, just selling product is not enough, says Craig Walker. Business models, customer connectivity, innovation and digitisation are the motors of change for Shell Downstream's VP and Global CIO.
"We are transforming from moving molecules to moving electrons," Walker says. "And that business is all driven by IT. We are in the process of using digital technology to create business models we have not yet invented."
In this huge business – it has more retail sites than Starbucks and McDonald's combined, serving 30 million customers a day – Walker is churning out innovative products and services by the dozen. Last year, for example, Walker's team deployed a blockchain-based crude oil trading platform and applied machine learning and AI to the vast quantity of sensor data coming back from the company's 14 refineries and chemical plants for better preventive maintenance, real-time operational improvements and increasing uptime and tool time. Other cutting-edge releases included a camera that can spot gaseous releases and identify what type of gas it is, and the rollout of augmented reality solutions to plant workers to make data capture and use easier and faster.
Meanwhile at the downstream end of the business, 2018's highlights include a mobile app that allows a person with disabilities to locate a retail site, messages they are on their way and ensures someone is there to greet them, fuel their vehicle and get what they want from the shop. He also launched 'babel fish' apps that allow deaf and/or dumb employees to work on the forecourt and with customers.
INDUSTRY: Energy Industry