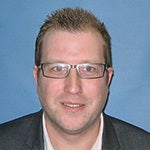 2019 Winner Profile
Royal Liverpool and Broadgreen Hospitals & Liverpool Women's Hospital NHS Foundation Trust
David Walliker
RANK: #23
COMPANY WHERE WON: Royal Liverpool and Broadgreen Hospitals & Liverpool Women's Hospital NHS Foundation Trust
AWARD DETAILS:
David Walliker is one of the few CIOs who can claim to be taking on death – and winning. As the CIO of two major hospitals (the Royal Liverpool and Broadgreen University Hospitals and Liverpool Women's Hospital), Walliker and his team have delivered on a digital agenda that is saving lives and transforming clinical care.
In 2018 they rolled out a clinical decision support tool to increase screening for sepsis and subsequent antibiotic administration. Developed in-house under Walliker's leadership, it integrates a number of clinical parameters, including patient observations and laboratory results, and automatically alerts clinicians when a patient with sepsis is detected. The tool removes the need for manual intervention and prompts action by clinicians, ensuring sepsis treatment occurs much earlier than before. As a result, over 200 lives have been saved to date, and the method has been made available for the whole of the NHS.
And it's not just the lives saved – there is an operational improvement in length of stays and reduction in complications of in-patients as a result, which also reduces operating costs. Digital excellence and outcome improvement do not come much better than this.
Walliker's function has also deployed virtual reality for reminiscence and pain distraction palliative care therapies. Extremely well received, the VR implementation allows patients to virtually visit places they always wished to or go back to. It forms part of a smart house programme to accelerate the penetration of innovation in the NHS by creating a "digital house" in a life science accelerator as a way of developing IoT-based sensor and living support technologies.
LOCATION: Royal Liverpool University Hospital Nhs Trust Charities, Liverpool, United Kingdom
INDUSTRY: Government