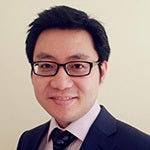 2019 Winner Profile
Align Technology
Wei Wang
COMPANY WHERE WON: Align Technology
AWARD DETAILS:
With Align Technology having disrupted the dental sector with the introduction of 3D printed, custom-made clear aligners back in 1999 - which became an alternative to traditional brackets and wires, its IT Director for EMEA Wei Wang has little difficulty in asserting the role digital technology plays in moving the industry and the organization forward.
The company is the largest 3D printing company in the world, producing over 400,000 unique customised clear aligners every day. Technology is accordingly a core capability, enabling the strategic goals of global expansion, customer utilisation and consumer engagement.
In 2018, Wang and his team in EMEA used data science to enable customer segmentation and targeting to support regional commercial growth. Data science has also been deployed for smile assessment and a consumer concierge that connects consumers with doctors by assisting prospective patients with booking an appointment. They also launched a mobile app, powered by analytics to support sales in the field, with a 360-degree customer view connecting sales, customer services and clinical services, as well as a virtual reality app to create an interactive consumer experience for Align products.
LOCATION: San Jose, United States
INDUSTRY: Telecommunications Industry