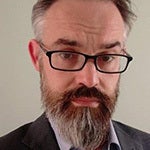 2019 Winner Profile
Sussex and East Surrey NHS Sustainable Transformation Partnership
Mark Watson
COMPANY WHERE WON: Sussex and East Surrey NHS Sustainable Transformation Partnership
AWARD DETAILS:
Success can be as much about people as technology, as Mark Watson, Digital Programme Director for Sussex & East Surrey Sustainability Transformation Partnership - an NHS shared service - can demonstrate.
He has built a collaborative culture across 24 health and care organisations and 200 general practices. Through a rigorous targeting of shared problems and delivery of consensus solutions in key areas, he has inspired CIOs and Chief Clinical Information Officers to work towards positive outcomes and shed the learned passivity that had discouraged inward investment.
As a consequence, Watson has attracted and directed targeted investments to deliver real-time information sharing for direct care and build a pseudonymised linked data service. He is working with a public/private partnership supply team and building a community of analytics and data science professionals and academics to exploit its potential as both a research and evaluation resource.
Driven by the need to improve health outcomes while closing a financial gap of nearly £900m by 2020/21, he has brought organisations and leaders together in a shared strategic digital ambition. The additional inward investment of £20m he has attracted is going on transforming health and care services and delivering productivity gains. Technology is helping to redesign relationships between patients and professionals and empower patients to self-manage their care. A commercial risk-share model is now being used to scale investment sustainably across the entire population area.
LOCATION: Redhill, United Kingdom
INDUSTRY: Government