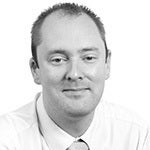 2019 Winner Profile
Knights Brown
Peter Williamson
COMPANY WHERE WON: Knights Brown
AWARD DETAILS:
Banking the credit Peter Williamson and his team earned in 2018 from a slew of digital initiatives introduced the year before, the Business Systems Director at Knights Brown Construction could justifiably have rested on their collective laurels last year. Williamson and co didn't of course, and took on an all-encompassing ERP project instead to achieve significant business change.
But first, those 2017 introductions. They included a new intranet and corporate website, a consolidated 4G data network, employee feedback tools, upgrades to most functional applications achieved by migrating to SaaS, and the rollout of 3D CAD tools. All have enhanced productivity and been well received by the business.
In 2018 Williamson and his team turned attentions to bringing in the company's first ERP solution. The aim: to bring about procurement efficiencies, implement proactive management controls and provide management with a near-live view of project performance against budget/forecast.
Success is already manifest. By merging five procure-to-pay systems into one integrated solution that centralises procurement for all transactions over £1,000, the ERP suite has helped grow company revenue by over 10% year on year and cut overhead by nearly 2%. The introduction of simple-to-use workflows has halved invoice queries and speeded up procurement approval sign-offs from days to hours.
Project managers and senior management now have a near-live view of project costs and revenues to date, something previously achievable only as part of the monthly accounts reconciliation – a process that took 10 working days to achieve. And compliance with construction contract filing protocols has risen from 60% to over 90% (and around a million contract-relevant documents are created or received each year).
Williamson's team has also trialled and begun the company-wide rollout of a hand arm vibration (HAV) monitoring system. Construction workers wear the monitoring device on their wrist, holding it against the RFID tag on each tool they're using; once the HAV limit is reached, the device tells the worker to stop and rest. The data from the devices is collected, allowing the company to keep track of employees' overall exposure to HAV and adjust their work patterns if required.
First steps have also been taken in AR and VR. After winning a contract to replace power resilience systems in a major airport's air traffic control tower, Williamson has met the significant site restrictions on noise by building each step of the project in VR first.
LOCATION: 160 Christchurch Road, Ringwood, Hampshire, United Kingdom
INDUSTRY: Construction and Engineering Industry