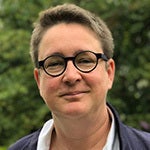 2019 Winner Profile
British Transport Police
Sarah Winmill
COMPANY WHERE WON: British Transport Police
AWARD DETAILS:
When Sarah Winmill arrived at British Transport Police, she realised that high operational demand and a constantly changing IT leadership had led to an erosion of repeatable processes within the technology department. The CIO set out a recovery programme.
She addressed the absence of security patching, project prioritisation, resource planning and standardised incident management by re-embedding ITIL best practice and standardised regimes across the entire British Transport Police estate. It has brought to an end the long litany of repeated system failures, poor project delivery and compromised systems security.
In 2018, under her ITIL programme she designed and embedded new incident, problem and change processes. Critical incident numbers have halved, with all but one service exceeding its KPI in the last quarter of the year. Services over an ageing infrastructure are now reliable, and she has embarked on an accelerated programme to resolve the security vulnerabilities that have built up over a decade. She has defined and formalised BTP's ICT strategy, securing organisational commitment and funding for a comprehensive three-year transformational digital policing programme.
Her initiatives have reinvigorated a technology team with a high churn and turnover, and with vacancies taking an average of six months to fill as a result of stringent vetting requirements.
The delivery of a mobile policing capability providing command and control, and crime systems directly to the front line via 2,000 mobile phone devices has allowed officers to carry out checks and compile crime/intelligence reports at the point of need, rather than having to return to a station. It has freed more than 30 minutes per shift of additional visible policing.
Winmill and her tech colleagues have also been exploring collaborative projects on behavioural analysis for suicide prevention and to identify outlying behaviour/left objects at stations. And she has researched facial recognition and AI capabilities to assist with finding evidential footage in CCTV imagery.
British Transport Police CIO Sarah Winmill's reflections from the 2018 Gartner Symposium
LOCATION: London, United Kingdom
INDUSTRY: Government