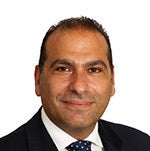 2019 Winner Profile
JLL
Chris Zissis
RANK: #12
COMPANY WHERE WON: JLL
AWARD DETAILS:
For the past six years, Chris Zissis has not only been riding the technology wave at real estate specialist JLL, but also been shaping it. Promoted at the start of this year to Global CIO for Capital Markets and Valuations along with his EMEA CIO remit, Zissis and his team have been creating solutions for fee earners and clients, and shifting the focus of the professional services and investment management company from infrastructure towards data, digital automation and business applications.
In 2018 Zissis led a global CRM rollout to over 1,800 investment colleagues, who have generated 17,000 opportunities on the platform since its launch. Blockchain technology has been applied to real estate appraisals to provide an immutable traceable record of asset valuations, while also digitising and simplifying the verification process.
A global sales and transaction platform has fully digitised the client experience for sales, debt, underwriting and pricing products, and offers market, asset and client intelligence. In turn, this intelligence has been leveraged by an AI-based valuation automation platform for corporate real estate portfolios. It is proving highly successful in driving investments out of non-performing loans and asset portfolios and into higher-yielding alternatives.
Zissis and his function have also introduced other innovations that focus on digitising the client and fee earner journeys and creating data assets that will allow for new products and services. Service automation is allowing staff to generate more value and profit by eliminating tasks such as data input.
And by combining a data hub, market research, predictive and AI-driven models, and a 3D visualisation tool, JLL has been enabled to give leasing clients a virtual tour of buildings. Surrounded by immersive views and with access to data and insight at their fingertips, clients have been able to slash the time needed to create a property shortlist by 85% – no more hours wasted crossing London or Paris visiting one property after another. Leasing staff have enjoyed an exceptional pitch success rate as a result.
[Read next - JLL EMEA CIO Chris Zissis interview - Making sure IT is a value generator]
CIO UK podcast episode 9 - JLL's Chris Zissis on CIO and CTO delineation

LOCATION: London, United Kingdom
INDUSTRY: Professional Services