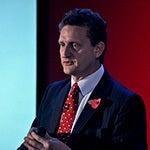 2019 Winner Profile
BNP Paribas
Jack Cutts
COMPANY WHERE WON: BNP Paribas
AWARD DETAILS:
An aspiration for many, transferable skills are a reality for Jack Cutts. The one-time Cobol programmer has worked in development, infrastructure and project management, and held senior business roles, giving the CIO of BNP Paribas Personal Finance UK an enviable breadth and depth of knowledge for creating effective plans and leading teams.
Last year his team completed a full refresh of the bank's technology stack, bringing two data centres online to provide availability and resilience. All development now follows an agile approach, with security built in at source and automated testing. The quality of applications has accordingly improved and the idea-to-live timeline got shorter.
His introduction of agile and devops has boosted the quality and speed of live deliveries to customers. Automated testing completes test cycles in hours rather than days. And a new microservices-based architecture will enhance the customer experience from onboarding to self-heal.
With a challenging recruitment market in the bank's two core locations, Cutts has extended a new flexible offshore resourcing model across all development and infrastructure areas. In effect, he has created an extended virtual team across most bank activities and halved the cost of projects.
The launch of three new business lines in 2018 demanded tech approaches that were new to the business and will allow it to double in size. All were delivered on time, on scope and on budget. His latest innovation is the launch of a personal credit digital product with the ease of use of a credit card and the control and predictability of a fixed-term loan.
INDUSTRY: Financial Services Industry