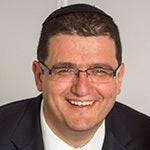 2019 Winner Profile
Steinhoff
Chily Fachler
RANK: #19
COMPANY WHERE WON: Steinhoff
AWARD DETAILS:
When the going gets tough, retail turnaround specialist Chily Fachler moves up a gear. Arriving at Steinhoff UK Retail in 2015, the Chief Digital and Information Officer found a company behind the technology curve. Even worse, its parent South African holding company came close to collapse last year, forcing Steinhoff UK Retail to consolidate its Harveys Furniture and Bensons for Beds businesses.
Fachler has enabled the company to ride the storm internally and externally. The business is now making more effective decisions in an increasingly challenged furniture and retail park environment, and has an appetite to take on the challenge of digital.
After 20 years of independent operations for Harveys and Bensons, he pulled off the huge undertaking of bringing together their ERP and peripheral systems and processes in just seven months. Fachler's team delivered the programme on time, within budget, and, critically, in time for the peak Christmas trading season. It was by no means blip-free, but early life support lasted for just a few months, and it is now business as usual.
Not only did the tech function move Harveys off its legacy systems and onto Bensons' ERP under Fachler, they managed to put several other projects live at the same time. Those include a single group finance system, deliveries optimisation, a SaaS digital asset management solution, and an enterprise service bus. With iPads rolled out and used in all stores pre-Christmas for credit finance, room planning, intranet and Skype as well as VR and augmented reality functionality for customer room planning. Fachler and his team even introduced artificial intelligence in an adaptive bed application to help customers select a bed for the perfect night's sleep.
[Read next: Steinhoff UK CIO Chily Fachler interview - Board representation and customer experience innovation]
LOCATION: London, United Kingdom
INDUSTRY: Retail Industry